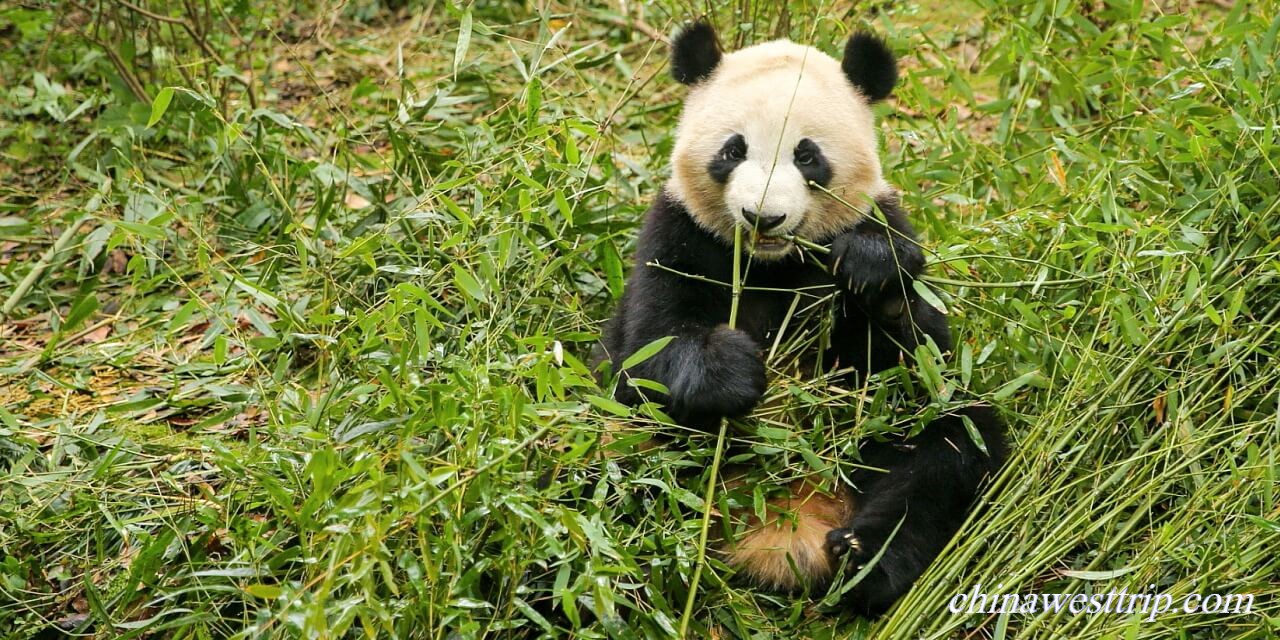 Name in Chinese: 成都熊猫基地 Chéng Dū Xióng Māo Jī Dì [tsen du ʃɔ:ŋ mau dʒi di]
Duration of Tour: Half a Day
Location: No. 1375, Panda Grand Avenue, Xindu District Chengdu
Highlights: Newly born baby pandas(between July and Septemper), Red Pandas, and Giant Panda Museum
Chengdu Giant Panda Breeding and Research Center is also called Chengdu Panda Base in short. It is one of the top three attractions in China for foreigners to visit. The other two include the Great Wall and the Terracotta Warriors. Chengdu Panda Base was founded in 1987, covering an area of 160 acres(65 hectares). Unlike common zoos, it focuses on breeding panda. At present, over 100 giant pandas share the base with some other rare animals and birds, like red panda, peacocks, swans and black-necked cranes. Red panda is another species. It looks like racoon in North America. The panda base is a must-go place for foreigners, when they travel to China.
The whole base consists of two giant panda's delivery houses, five nature-like enclosures for giant panda, two enclosures for red pandas and three museums. The highlight is the Moonlight Delivery House. All the newly born baby pandas are kept in both the Moonlight Delivery House and the Sunshine Delivery House.
Best time to Visit
The panda base opens from 7:30A.M. to 6:00P.M. everyday in the summer. But when the temperature is higher than 26℃(79°F), giant pandas will be kept in their rooms to avoid the summer heat. It is highly recommended to get to the base entrance by 8:30A.M.. In the morning, pandas look active. After breakfast, it seems that giant pandas prefer to indulge themselves with their favorite pastime, sleeping.
Mini shuttle buses are operated by the base. In fact, it is not that difficult to walk up along the well-paved path. It is highly suggested to walk along the path to visit the enclosures one by one, like the Adult Pandas' Enclosure, Panda Cubs' Enclosure, the Moonlight Delivery House and enclosures of red pandas.
How to get to the base
It takes about 40 minutes to get to the base by car from the city proper of Chengdu.
Panda Volunteer Program
There are totally five panda bases in Sichuan Province. The other four include the Panda Valley, the Panda Park, Wolong Panda Base and Ya'an Panda Base. Visitors can take part in the Panda Keeper Program in both Panda Park and Wolong Panda Base. Read more about giant pandas.
Recommended Panda Tour:
Two-day World Natural and Cultural Dual Heritage Tour
Related Articles:
All Things You Want to Know about Giant Panda
Chengdu Travel Guide
Author: Tina Luo

Update: