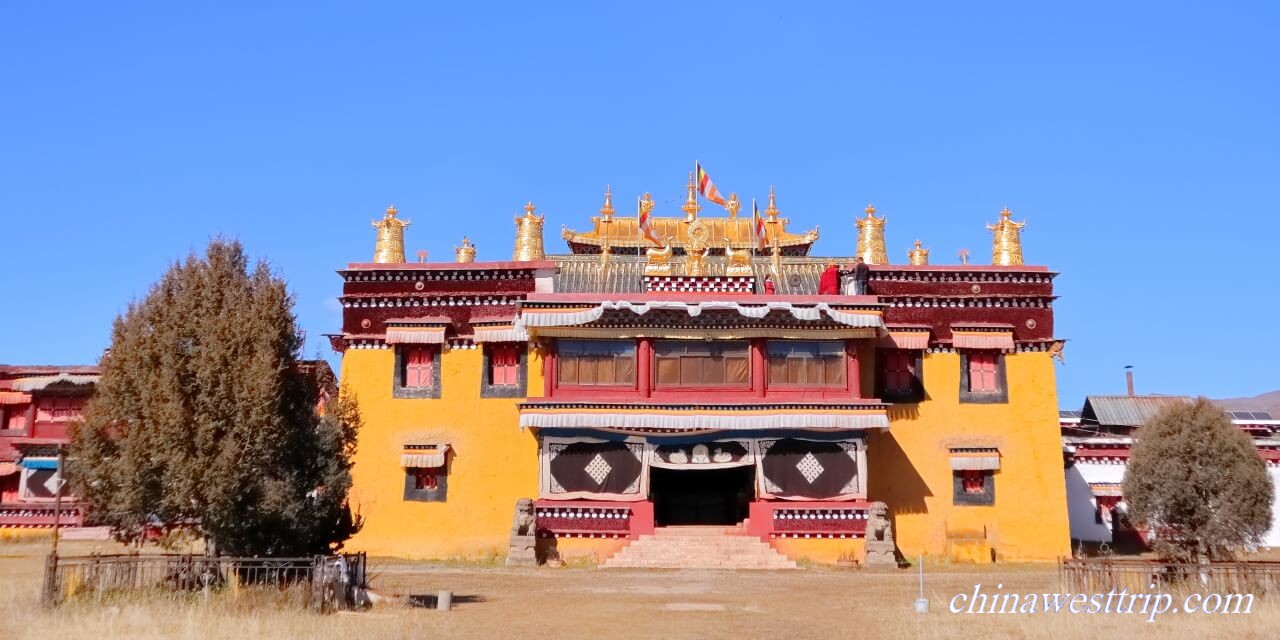 Name in Chinese: 慧远寺 Huì Yuǎn Sì [huei juæ si]
Duration of Tour: One Hour
Location: Bamei Town, Daofu County, Garze Tibetan Autonomous Prefecture, Sichuan Province
Highlights: Tibetan Buddhist Culture
Reputations: the Temporary Dwelling Palace of the Seventh Dalai Lama, the Birthplace of the Eleventh Dalai Lama
Named by Emperor Yongzheng of Qing Dynasty, Huiyuan Lamasery was built in 1728. The Dzungar rebels took over Tibet in 1717. During the war, the Seventh Dalai Lama and his followers moved to Litang County. In order to make a place of refuge for Dalai Lama, Emperor Yongzheng(1638-1735) gave a command to build up a monastery in Qianning County( the present Daofu County). The Seventh Dalai Lama's name was Gelzang Gyatso. He lived in Huiyuan Lamasery for seven years. The inscription of the lamasery is in the handwriting of Emperor Yongzheng.
In 1838, Khedrup Gyatso was born in a village nearby Huiyuan Lamasery. He was recognized as the Eleventh Dalai Lama in 1840. For this reason, Huiyuan Lamasery is also considered as the birthplace of the Eleventh Dalai Lama.
Nowadays, Huiyuan Lamasery has become a shelter and happy land for over 200 lamas. It is also a holy place of local Tibetans.
Travel Tips
How to Get to Huiyuan Lamasery
Huiyuan Lamasery is located in the north of Bamei Township, 11 km(6.8 miles) away from the town. Bamei is a small town in Garze Tibetan Autonomous Prefecture. It is 84 km(52 miles) to the west of Danba, 140 km(87 miles) to the northwest of Kangding.
How to Avoid Altitude Sickness
The altitude of Bamei Town is about 3,500 meters(11,483 feet) above sea level. Visitor should try to avoid the AMS. Please read more about AMS.
Weather
The temperature in Bamei Town ranges from minus 5℃(23°F) to 9℃(48.2°F) in spring, 9℃(48.2°F) to 20℃(68°F) in summer, 14℃(57.2°F) to 23℃(73.4°F) in autumn and minus 2℃(28.4°F) to 8℃(46.4°F) in winter. The best time to visit Bamei is between September and October. Visitors should try to avoid going to Bamei in the rainy season. The rainy season in Sichuan lasts from July to August.
Because the altitude is high, visitors should prepare warm coat and try to decrease the risk of catching a cold, even in the summer.
Recommended Tour:
Twelve-Days West Sichuan Pure Land and Tibetan Culture Exploring Tour
Related Articles:
Daocheng Yading
Siguniang Mountain
Jiaju Village
Altitude Sickness
Author: Tina Luo

Update: